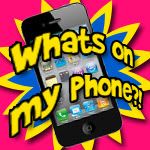 fat arm. snuggling with Chanellard at home.
I CAN'T FIGURE OUT HOW TO MAKE THIS UNSIDEWAYS ARGGGG. but this is a picture of a picture that i found at home of me, KitKat and LJ in high school. sitting together in a white bench and being all chummy and thinking we are so cool. i believe we are all wearing Tilt jeans. from PacSun. ohhhhh, good times.




this is my sister M's fiance C-Brad's dog Hamilton. he doesn't like cameras. that's why it's blurry. he's in the process of trying to run away from the camera. M and i popped over to C-Brad's (soon to be C-Brad & M's) house to say hi to Hamilton on Saturday morning after breakfast.
Cleo got a present from Sabby in the mail! it's a t-shirt with a pink sparkly skull on it! Sabby knows us too well. thanks SABBYYYYYYY
my parents went to Switzerland. and sent me this tee. doofus JJ in the back.
i woke up on friday morning last week to this. srsly. i'm a fat slob. the treats include everything that i ate the night before: butterfingers, starbursts, popsicles
Scholarly Chanel
SIDEWAYS ARGHH! found this picture at home too. that's me and Kev. as little kiddies on halloween. he was born 6 days before me. i've known him since birth. i like this picture. and i think i am making a classic L face that i still make today.
OMFG WHO'S BUTT IS THAT?!?!?!?!?!
up at 4 am. just grumpy.
my new computer mouse that i got with CA this weekend at TJ! isn't it ADORBS!?!?!? i'm obsessed.