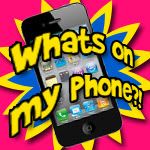 What's on L's phone?!
leftover pasta roma. i made it for the Fab5. a huge pan of it. and this is all that was left. GOBBLED IT UP for lunch today. yummmm.
the first day back to work after my Fab5 vacay
I ONLY BUY WASHINGTON APPLES HERE IN CALIFORNIA. but some grocery stores don't have a very big selection, but yesterday they had golden delicious--my fave!
LJ, KitKat and i got mexican takeout on sunday...here is LJ awkwardly posing next to an enormous molcajete.
she has been on the lookout for one. but as her husband said when i sent him this picture...."probably won't fit in her carry-on" haaaa
hungover KitKat. haahahahahahahaaa
my new bracelet from BCBG....OMG!
Cleo as Badass
JJ's baseball team the Quakes are so popular! the Mexican takeout place was out of team schedules. it's going to be a good year! gooooo quakes! (and bring on the $1 beer nights)