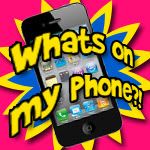 What's on L's phone?!
tapatio popcorn my coworker brought me today. YUMMM!
a staple in my diet this week for dinner. thanks eastermommybunny!
laying by the pool with Cleo in Arizona and my swan bikini. thanks again eastermommy(anddaddy)bunny
Cleo looks like an arrogant old rich human man in this pic haaahahaahahaaa. just hangin' out in her house on the way to AZ.
some days....this is SO true, eh? don't lie. it's true.
rmbr how i told you i was going to add pink ribbon to my shoes? how ca-ute are they now!??!
Cleo driving JJ's golf cart at work.
Nat King Cole wearing her new bathing suit from Aunt L & Uncle JJ. adorbs! wish it came in my size.
shopping at Ross with Sam. she sent this pic to her fiance and said, "what do you think of this romper?" and he said, "hmmm no. it makes you look like a block. your figure."gahhh. men. i however, bought the romper in blue. haaaa. also, take note here of my hair part. OMG REALLY?!?! i wasn't going to shower on Easter morning...but this picture convinced me. how gross.